DLR Researchers Contribute New Insights On Changes In The

Ozone

Layer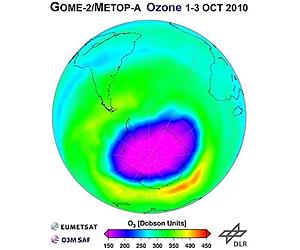 Measurements by GOME-2 (Global Ozone Monitoring Experiment), an atmospheric sensor on board the EUMETSAT MetOp-A satellite, make it possible to determine the thickness of the Ozone Layer, that is, the total amount of ozone in the atmosphere [in dobson units; DU]. This image shows the Ozone Hole over the south polar region from 1 to 3 October 2010, with ozone figures substantially below 150 dobson units. The Ozone Hole extends across most of Antarctica. Credit: DLR.
by Staff Writers
Berlin, Germany (SPX) Feb 28, 2011
German Aerospace Center researchers have been instrumental in the preparation of a report on the changes in the Ozone Layer for the World Meteorological Organization (WMO). The report was published online by the Geneva-based WMO in January. Recent estimates suggest that, by the middle of the 21st century, the thickness of Ozone Layer will be the same as in the early 1980s. "This positive development is due to the successful regulation of the production and use of substances containing fluoride, chlorine and bromine - for example, chlorofluorocarbons (CFCs) - through the Montreal Protocol of 1987 and subsequent international agreements," explained Martin Dameris from the DLR Institute of Atmospheric Physics.